---
How to install our free BMI Calculator
6/25/2010 10:02 am
We've made installing our free BMI Calculator Widget fast and easy, since that's what we would enjoy most on all tools we install into our own apps. This free widget is hosted by us, which means all code and as a result, updates are handled by us. Below are instructions on how to install our free BMI Calculator widget. If none of the buttons work, make sure your javascript is turned on.
Our application to choose your colors as shown below can be found here.
First, select the color theme, if any, you would like by clicking on the color boxes. A real-time preview will show you what it will look like.

Next, click "Install", and a box with the necessary code pre-selected will show up. Just right click, or use your keyboard shotcuts, and copy the code. Paste it where you want the widget to appear on your website.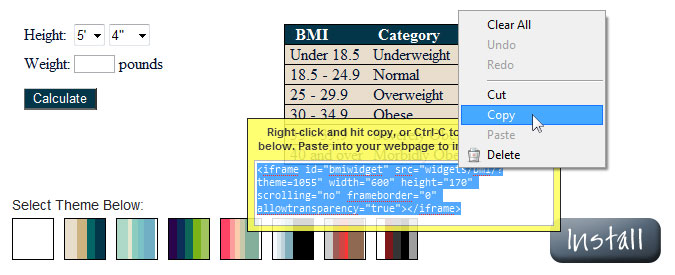 That's it! If you don't see a theme you like, just contact us! Make sure to include a link to your website if you would like the customized theme to complement your design.
Posted By: Jason