---
Not Your Typical Content Management System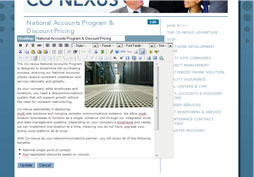 If you take a look around the web, the Content Management Systems you will find allow you to just edit your content, maybe an image can be placed and bold some text. Our content editor is not only full featured, but we have over 30 mini-apps that plug into it, including an Appointment Calendar, Blog, Testimonial Generator, and Banner Manager, to name a few. Plus, there's no downloading and installing, so there's no potential for getting confused or stuck going back and forth with technical support. Click here to read more.
CMS Packages
Below you'll find our pre-defined packages that cover most types of clients. After your customer's website and needs are analyzed, you can easily come up with a package and any necessary customizations using our quote generator without needing to wait for our response, or ask us and we'll help you with the quote.
Basic Brochure Site - Retail
Basic Brochure Site - Services
Restaurant Suite
Ecommerce Suite (Buy Online)
This package is the most affordable way for retail businesses to have a web presence without the extra cost of a full-fledged product website. It allows all the other features one would expect from a retail website, such as social networking integration, SEO Management and newsletter signups. As always our CMS allows for unlimited page creation, so product pages can be added on the fly as needed.
Modules:
Content Management System
Social Networking
Banner Manager
FAQ
Mailing List Signup
Navigation Editor
Meta Tag Editor

Product Suite (Browse)
Bariatric Suite
Interactive Suite
A La Carte / Create Your Own
Mobile Websites
More and more potential customers are using smart phones every day. Web usage by mobile users increased by 149% in 2009 alone, and yet many businesses don't think of implementing mobile-friendly sites. Instead, they force visitors to zoom in and drag the site around the screen to get the info they need. Gain the edge by making a dedicated mobile-friendly website available to your customers, so they can modify its content as well as their own with our CMS.
Corporate Blogging
Want to offer a blog to your customers? We have that covered, too. Just add it to any package and we take care of the rest. Silvermoon Interactive's blog seamlessly integrates with our CMS as we built it from the ground up, and yet has all the necessary features of any typical blog out there. We've kept it easy to use and quick to add/edit/delete posts and comments, so your customer can maintain their blog and move on with their day faster.
Mini-Apps
These small web and software applications make up our Silvermoon Interactive Mini-App Suite. If you choose an a la carte solution, below is our entire list of mini-apps so you can create your own custom package. We are creating new mini-apps with almost every project, so if nothing jumps out at you, just let us know and we'll create a custom web application solution to satisfy your needs.
If you just want to show your products and allow buyers to come in to purchase, this is the Mini-App for you. It includes listing products by category, popularity, brand, and type. You can also create your own group of products and create landing pages. As with all our Mini-Apps, it's all manageable by you in the Admin section. This works very well with the bulk product uploader for those with many products to manage.