WE'RE HERE
TO MAKE YOUR LIFE EASIER
We're not your typical programmers. We understand business needs and do everything possible to make your ideas happen. For this reason, we so far have never said, "That's impossible" to our clients. Have an idea for your website? Maybe an app that doesn't exist in our suite? Just let us know, and we'll make it happen.
FEATURED TOOL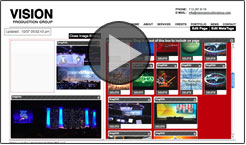 Drag & Drop Image Manager
Click on the video above to view just one mini-app as part of our Content Management System.
---
RECENT PROJECTS